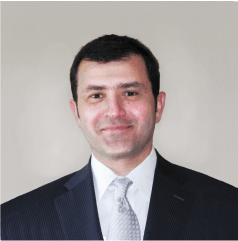 Dawood Abugharbieh
SVP & General Manager - Semiconductor Critical Process Equipment

Dawood is the Senior Vice President and General Manager of the Critical Process Equipment – Semiconductor (CPE-SEMI) business unit. He is focused on organic growth while also overseeing strategy and helping assess and execute upon acquisition opportunities in the CPE-SEMI space. Additionally, Dawood oversees corporate marketing for the Critical Process Systems Group, working with all of our companies to grow brand and market awareness.
Over a three-decades-long career, Dawood has held positions of increasing responsibility in engineering, B2B sales, marketing, and business development in advanced materials, capital equipment, analytical services, and professional service in the semiconductor industry. In addition to business experience, Dawood worked for six years as an Adjunct Professor at Portland State University with a focus on marketing, strategy and graduate courses in innovation management.
Dawood holds a PhD is Systems Science from Portland State University, an MBA from Western International University and a Bachelor's degree in Electrical Engineering from Arizona State University.